Die hard conservatives love to disparage liberals as tree huggers, but it has been recently scientifically validated that hugging trees is actually good for you. Research has shown that you don't even have to touch a tree to get better, you just need to be within its vicinity has a beneficial effect.
In a recently published book, Blinded by Science, the author Matthew Silverstone, proves scientifically that trees do in fact improve many health issues such as Attention Deficit Hyperactivity Disorder (ADHD), concentration levels, reaction times, depression and other forms of mental illness. He even points to research indicating a tree's ability to alleviate headaches in humans seeking relief by communing with trees. The author points to a number of studies that have shown that children show significant psychological and physiological improvement in terms of their health and well being when they interact with plants and trees. Specifically, the research indicates that children function better cognitively and emotionally in green environments and have more creative play in green areas. Also, he quotes a major public health report that investigated the association between green spaces and mental health concluded that "access to nature can significantly contribute to our mental capital and wellbeing".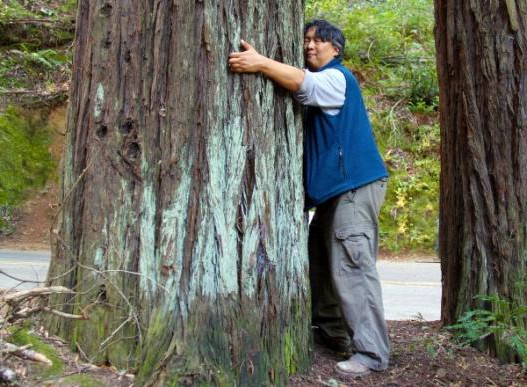 So what is it about nature that can have these significant effects? Up until now it has been thought to be the open green spaces that cause this effect. However, Matthew Silverstone, shows that it is nothing to do with this by proving scientifically that it is the vibrational properties of trees and plants that give us the health benefits and not the open green spaces.
The answer to how plants and trees affect us physiologically turns out to be very simple. It is all to do with the fact that everything vibrates in a subtle manner, and different vibrations affect biological behaviours. One research experiment showed that if you drink a glass of water that has been treated with a "10Hz vibration" your blood coagulation rates will change immediately on ingesting the treated water. It is the same with trees, when touching a tree its different vibrational pattern will affect various biological behaviours within your body.
This vibrational idea is backed up throughout the book by a number of scientific studies to provide convincing proof that tree hugging after all is not such a crazy idea. One report even concluded the following: "safe, green spaces may be as effective as prescription drugs in treating some forms of mental illnesses".
Ref: http://50.28.60.91/~upliftme/index.php/people/natural-healing/521-tree-hugging-scientifically-validated
Written by The Editorial Staff on 28 December 2012. Posted in Natural Healing
Read: Blinded by Science by Matthew Silverston