Description
Compost – Just Do It! Slash Costs & Increase Soil Life.
Camperdown Compost has for many years followed and been trained by Soil Foodweb (SFI) to make the best compost.
After a day spent on 4 farms Elaine gave this presentation which touched on soil biology and the benefits of using compost.
It's exciting times when farmers start to focus on the soil life and are able to measure what they are doing using a microscope. When you start putting the soil life first the results are often nothing short of miraculous. Can farming really be as simple as this?
Can farming be so simple?!
Chapter 1
Introduction with Tony Evans
Background of compost making on the farms that Elaine visited – Tony Evans
Introduction to Dr Elaine Ingham by Nick Routson
Elaine introduces us to the soil microbes
Who is Elaine Ingham? GM; Rodale Institute; Why use inorganic fertilisers?
Chapter 2
Questions; Why pesticides are not a healthy option; Ian Smith

More examples of getting the biology right
What is a Weed? Proper nutrient cycling with the Soil Foodweb
Aerobic forms of nitrogen v anaerobic forms; How far do roots go?
Conclusion with Nick Routson and Elaine Ingham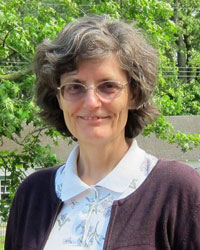 About Dr Elaine Ingham
Dr Elaine Ingham is an energetic, easy-to-understand speaker who explains what life in the soil is all about. Behind this "user-friendly" approach lies a wealth of knowledge gained from years of intensive research into the organisms which make up the soil foodweb.