Tipping Point or Turning Point? 

So TIPPING POINT or TURNING POINT?  Join the growing number of biological farmers not only making a positive difference to the ecology but enjoying job satisfaction and becoming more profitable EVERY year!
In today's world, where sustainable practices and ecological consciousness are becoming increasingly important, biological farming represents a tipping point or a turning point for the agricultural industry. By embracing biological farming methods, you can contribute to the preservation of our environment, promote biodiversity, and improve soil health.
For 37 years Bee of Merribee Organic Farmacy in Nannup Western Australia , has been doing just that –  increasing diversity in the plant, animal and fungal worlds whilst continuously building living soil. Along with her partner, Stew they believe that health is Mother Nature's laws obeyed and they champion a healthy environment, freedom and a healthy democracy. Keeping in tune with nature, they grow organic, raw, fermented probiotics, pasture fed meats, charcuterie , eggs, fruit, nuts, herbs and honey. Many seeking to restore their health by restoring beneficial gut microbes seek the Merribee's quality raw materials to rebuild amazing, resilient and self healing bodies. Bee says that just as it takes 2 to 5 years to transform dust into wonderful soil, it can take that long to build back a person's health, but oh, what a wonderful transformation awaits!
As a permaculture pioneer Bee is grateful to Bill Mollison and David Holmgren who were/are obviously sons of the living soil. Permaculture ethics are: care of people and care of the Earth. At Merribee Organic Farmacy they are ALL about permaculture.
Is Making Compost A Problem?​
I was kicked out of home at 16 for building compost heaps in our backyard in the Melbourne suburb of Mt Waverley. Earlier, Dad had taken me to a psychiatrist in an attempt to rid me of what he thought was a rare personality disorder but the composting obsession proved incurable. Now I'm 63 and a steaming hot compost heap still enthrals me: the way the stinkiest stuff is transformed into black gold ( humus).  I love knowing that a mass of red wriggler worms can demolish a cow pat in half a day and that a throng of soldier fly larvae can devour a sheep's  hide and guts in just 48 hours, and be themselves returned to the soil via some chooks soon after. Back then  I didn't know what was making the heat in one of these compost heaps but knew that this was Natures recycling system  and out of trash  came treasure……another generation of healthy plants, and another joy of my  life, organic food!
Destined To Become An Organic Farmer
From the age of 10 I wanted to be an organic farmer. Several years later I arrived in Nannup as a mung bean-eating hippie in a wrap around skirt, about to join a commune. This foray promised cheap land upon which to follow my dream but delivered lots of hassles.  Before long with my first husband we bought our own  27 acres, inspired by  Bill Mollison to start a Permaculture farm.  I am still here after having raised a family of 5 children, working for years as a teacher's aide and putting my dream of practising Permaculture on the back burner for many years.
Near the end of the disappointing 17 year marriage, I constructed a passive solar mud brick house out of natural and recycled materials. I made the bricks and all! The house is still standing and the permaculture surrounding it has grown –  magnificent now with towering bamboos, pecan and  pine nut trees, spreading oaks, chestnuts and hundreds of other species of fruit, nut , timber and native  plants.
Then 18 years ago I met my darling Stewart – third time lucky – and we suddenly became full time organic farmers, ditching our outside jobs pronto  thanks to the rise and rise  of farmers markets.   By now our Permaculture farm was yielding pecans, macas, a full – on fruit salad of rare fruits, building materials,  good pure water, meats, eggs and solar power…. we were able to make an income year round selling the surplus. We would be living the dream right? Well sadly not. The long – predicted drying out of our region suddenly came upon the land  in 2008. Freaky scenes of  brown grass in Spring,  normally the wettest season in this wet district…. !
From then on our usual winter efforts to extend the food forest were beset by failure due to drought and heat. Things just died even though we spent 8 hours a day hand watering them over prolonged summers. In 2010, our soil turned to non- wetting dust growing only wilting weeds. So with a formerly lush district turning to desert, and the soil building conditions of Spring and Autumn absent from the calendar, we realized that  to remain peasant farmers, we needed to improve our soil.
To build soil takes water, so water harvesting earthworks (swales and terraces) were formed and quick growing shady pioneer trees  planted around them  to allow soil microbes the moisture and moderate conditions in which to operate. We became cell grazers, alley croppers, multi species perennial pasturalists and then finally in 2013 we took the plunge.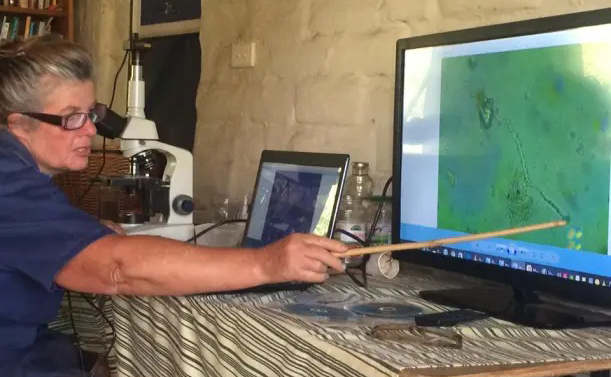 We invested heavily in a microscope to learn about microbes from world eminent soil microbiologist, Dr Elaine Ingham via the wonderful Helen Disler and Farming Secrets! And it was the best money we ever spent; Helen and Hugo looked after us.
The promises of Elaine did seem too good to be true at first, so I was very skeptical, but eventually became encouraged by the positive results from making and applying fungal compost tea. Soon we saw water infiltrating and being held, plants thriving, weeds and diseases disappearing, sometimes within 2 weeks, but other times it took 6 months to see results, or even years if the weather was nasty.
The climate continues to deliver shocks but we must not let nefarious powers that be remove our human rights using climate change as a weapon.  According to people like videographer  John D Lui and Holistic grazing creator Allan Savory, we farmers have the ability where few others have, to  positively affect the water cycle by applying the soil health principles… to soak up atmospheric carbon dioxide via photosynthesis and return it to the Earth where it is stored as carbon in the soil. It turns out that green plants are the original and still the best method on Earth to capture carbon and help store it underground.  Whenever the sun is shining and there are green plants, carbon is being captured but not surprisingly this only happens where the whole gamut of soil microbes are present.
Some years ago Dr. Christine Jones made  a staggering claim that if all farmers in Australia raised their soil carbon by just 1 per cent, the entire globe's legacy load of carbon in the air would be cleared away into the soil, and a safe climate would return. I'm hearing this echoed around the world by numerous soil scientists and by the Rodale Institute. Sadly it is estimated that  only 1 percent of farms are biological and helping capture the carbon. This means that the remaining 99% of farmers, many who control vast areas of land, extinguish most of these carbon-sequestering microbes  from their land with chemicals, fire and plough.
Call To Become A Biological Farmer
Join Bee and Stew in their mission to revolutionize farming practices and embrace the power of ecology and biology. They have discovered the incredible potential of unseen microbes and are now sharing the wisdom of Dr. Elaine Ingham with fellow growers. Together, they are advocating for a healthy and profitable farming lifestyle that stems from a deep understanding of the soil.
Take inspiration from Merribee Organic Farmacy, an exemplary mixed farm operation that provides a wide range of organic products to their local community. By adopting ecologically and biologically sound practices, they have achieved abundance and diversity in their products.
Next topic: Services offered by Merribee Organic Farmacy
Ref. https://merribeeorganics.wordpress.com/