Want to Wear Your Soil Loving Values on Your Sleeve—Literally!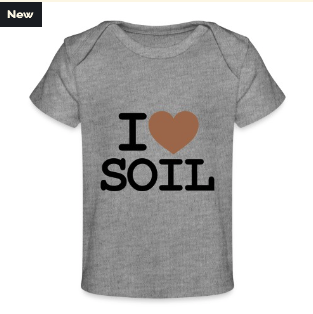 Do you love soil? 

Do you want to promote healthy soil practices but don't know where to start?

 Look no further than your wardrobe! Wearing soil-friendly merchandise is a great way to start conversations about the importance of healthy soil.

Not only will you be supporting your favourite podcast, but you'll also be encouraging others to learn more about the benefits of healthy soils.

Here are some of our favourite soil-themed items to get you started.
T-Shirts, Hoodies, and Baby clothing:
Hats are another great way to show your love of the soil. You can find caps that say "All Things Grow with LOVE" or "Crazy plant lady". Or if you want something a little different, there are also trucker hats that say "Born to garden forced to work". Either way, you're sure to turn heads and start a conversation when you wear one of these hats out in public!
Start your day with a dose of soil love by drinking your morning coffee or tea out of a mug that shows your affection for soil! You can find mugs that have pictures of dirt on them, or mugs that simply say things like "Plants Are My Therapy" or "Choose Your Weapon". Either way, they'll put a smile on your face as you enjoy your morning cuppa. Plus, they make great gift ideas when you have no idea what to buy!
Totes and Button Pin Badges
If you're looking for something a little more subtle, consider snapping up some tote bags or button badges. These small items can be carried around that share your values with the world. They're simple and stylish, and they send a clear message about what's important to you.
By wearing soil-friendly merchandise, you can help promote healthy soils while also supporting your favourite podcast, Secrets of the Soil. It's an easy and stylish way to start conversations about an important topic, so don't hesitate to stock up on all the latest soil swag!

People will be drawn to your fun and funky clothing, and they'll be curious about why you're wearing it. Before you know it, you'll be having great conversations about something that you're passionate about – SOIL!